ORGANIC KAMUT GRAIN, by the pound
SKU:

GRO170

Minimum Purchase:

5 units
Bulk discount rates
Below are the available bulk discount rates for each individual item when you purchase a certain amount
| | |
| --- | --- |
| Buy 25 or above | and get 7% off |
Description
This is an ancient relative to wheat. Thick long grained, bronze kernels. Ready to mill into flour
Kamut is high in protein and easily digestible.
Order in 5lb or 25 lb bqgs
Kamut is an ancient grain that has the status of one of the superfoods. This healthy grain has many health benefits. It's known to support heart health, weight management, bone health and much more. It has a rich nutty flavor, Kamut makes for a wonderful added ingredient for bread, muffins, and other baked goods. It is twice the size of today's wheat,
(Organic grains are not treated for pest prevention. Store in a cold dry area or a refrigerator or freezer to prevent pest infestation. We do not issue credit for grains improperly stored. )
KAMUT BREAD
Yield: 4 loaves
Mill whole Kamut grain into flour with your home grain mill
Place in a mixer or mixing bowl:
4 cups warm water (110 degrees)
4 cups Kamut flour, freshly-ground
1 Tablespoon SAF instant yeast
1 teaspoon Bragg's organic apple cider vinegar (optional)
Mix well until it forms a batter-like consistency. Cover and let sit for 30 minutes to sponge.
1/2 cup extra virgin olive oil, or softened organic coconut oil
1/2 cup Gunter's honey
1/2 cup vital wheat gluten flour (optional)
1 teaspoon sea salt
Additional freshly-ground Kamut, enough to make a study but moist dough, approximately 4-5 cups. Only add enough flour to have the dough form a ball and pull away from the sides of the bowl. Mix well until dough holds together.
If using a stand mixer, knead on medium-low for 5 minutes, or until dough is smooth and springy, but not sticky. If kneading by hand, this will take 10-12 minutes on an oiled surface.
Cover and let rise in a warm place until doubled, about 30-45 minutes.
Stir down dough and divide into 4 equal portions. Shape each portion into a loaf and place in a greased loaf pan to rise. Let rise for 30-45 minutes or until loaves are domed on top and have risen about 1 -2 inches above the rim of the loaf pan. *I use the 8 x 4-inch pans.
Preheat oven to 350 degrees while the bread is rising.
When oven and bread are ready, bake for 30-35 minutes or until bread is browned. Remove bread from oven, remove the bread from the pans and place the loaves onto a wire rack cooling sheet. Cover with a clean dishcloth and let the loaves cool completely.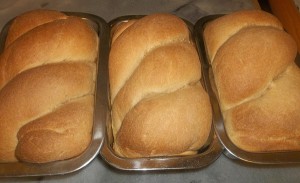 Kamut Salad
Kamut

1 cup water
1/2 cup Kamut berries, soaked overnight and drained

Salad, and to Finish

2 1/2 cups shredded carrots (about 3 medium)
1/4 cup plus 2 tablespoons golden raisins
3 tablespoons freshly squeezed orange juice
1 tablespoon freshly squeezed lemon juice
1 teaspoon honey
1/4 teaspoon ground cinnamon
1/4 teaspoon fine sea salt
2 tablespoons extra-virgin olive oil
1/4 cup toasted, chopped walnuts
1/4 cup pomegranate seeds, for garnish (optional)
View All
Close